I spent many hours trying to figure out songs from these great guitar and banjo players.
Curt Lee and I play twin leads on Eastbound and Down.
Jhano Hansen,our drummer, creates another great promo shot for the band.
Garry on bass, Joey on guitar, Jhano on drums and Curt on guitar at a show in Carson City at the Fandango Casino.
The praise bands from Soaring High Church and SUMC sounded great on, "He Won't Let Go".
Jordan, Stacy, Ana, Sandra, Andrea, Cindy, Tom, Kelly Mona and Jeff.
I bought this Peavey T60 used in El Paso in 1980 and I still use it today.
Curt Lee, Jhan Hansen Joey and Garry Pranin
We play for Hot August Nights in Reno, NV as, "Jim Shoe and the Sneakers".
Dale, Lanny and Scott w/ Buford Presley.
Rick Yelle, Joey Carmon, Dave DuChane and John Brock
Viva Las Vegas - Buford style.
"Ladies & gentlemen, the kin of R & R - Buford Presley"!
James "Kimo" Hunt on bass, Earl Hughes on guitar and piano and Joey Carmon on banjo were Hawaii's No. 1 country trio when this album came out.
I still have the leather guitar strap that Earl Hughes had made especially for us that year hanging in my studio where I teach.
Scott Lay ripping off another scarf for Buford Presley at a Hot August Nights show.
Dave DuChane gave me this Alvarez guitar.
I started teaching guitar lessons with the Alvarez guitar that Dave DuChane gave me when he left Reno, NV
Donald Boatwright was my first guitar student and now he plays banjo as well.
Class of '72 is lookin' good at our 45th class reunion!
Terry Profitt would come over to my house on Arlington Rd in Winchester, KY and we'd shoot BB guns and basketball all day long
Family reunion -Thanks, B.G.!
B.G., Maurice, Colette, Charlie, Mike and Daylene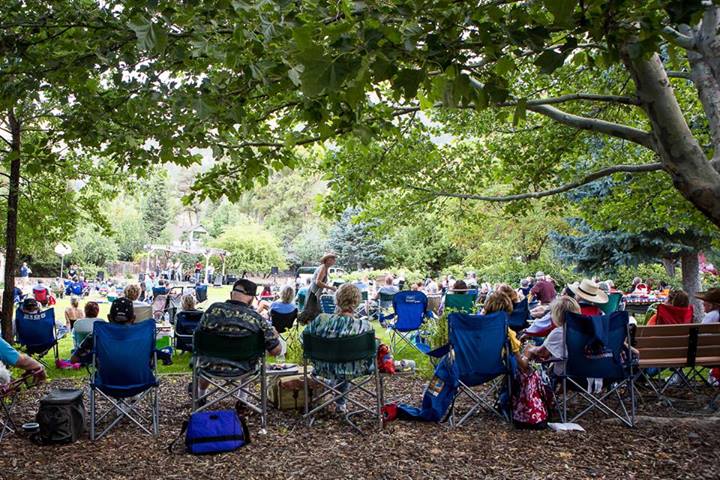 "Jerry Reed Tribute" at Genoa, NV
Jessica and Zoe have the right idea.
Which one is the kid, Justin..
New years eve at Pipers Opera House.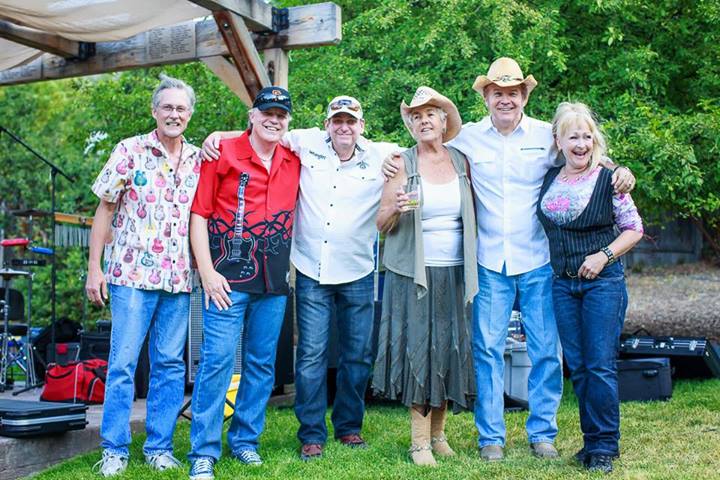 Curt, Dale, Scott and Loli pose for a picture after a Jerry Reed tribute show.
Scott Lay at Pipers Opera House
I learned from one of the best when I worked with Tommy Bell.
Chewin' the fat with Larry Goldman at the "Bucket".
David John sings, plays guitar, fiddle and mandolin every weekend at the Bucket of Blood Saloon in Virginia City, NV and I get a call to fill in for Duane Brown on occasion.
.....He'd take a bath in Goose Creek, even when it snowed." Some lyrics from, "The Ballad of George Brit Lyttle"
Manchester KY where George Brit Lyttle grew up.
George Brit Lyttle (aka, Dick Fellows) was caught trying to rob one of these.
A stagecoach like the ones George Brit Lyttle used to rob.
Here's an outside cooker.
Crossbow had a warm welcome from our families at the airport in El Paso, TX Paso after being on "You Can Be a Star" in Nashville, TN
Joey, John Ponzo and Darren Farano giving away a free guitar at one of our recitals at Bartley Ranch.
Jason "Currymoto" playing "Ghostriders in the Sky" at his first recital
Donald aka, The Big Duck. "A little DAB will do ya..."
Jim Geil treated us to some good finger dancing at Bartley Ranch in Reno, NV
Chloe did a great job at her first recital.
Granny K getting in some good squeezins' with Lissie.
I cut my teeth on country music with Jim Moore's band in Hawaii.
"Don't mistake that warm feeling you get from being in the middle of the herd that everything's okay..."
I got to play with the DuChane Bros. Band. Thanks Dave, Brian and Doug!
Hanging out at the house w/the DuChane crew.
Courtney and Sandra after a concert.
Taking a break from playing 'Shanghai' in Kentucky.
Jo Beth, B.G. and Maurice.
Playing the Bucket of Blood Saloon w/ David John and the Comstock Cowboys
Karen, Carl, B.G. and Maurice
Dave DuChane and I wrote gobs of songs together - This one was, "Lie To Me Tonight" in El Paso TX.
Darrell pickin' some hot licks
Chelsi needed some caffeine before her lesson. (so did I...)
Gavin & Nova (does the term, "squirrel tail" mean anything to you...
Wolf, you keep pickin' that thing it'll never heal.
Tanner moving up the neck!
Yolly, Ino, Beatriz & Hazel -What a group!
Zoe and Papa Joe and who ...who.
Paul Gardella working on, "Remember Me"
Austin Alexander has got that Em down pat!
Ciara Izzo singing, " Need You Now" By Lady Antebellum
Earl Hughes and Friends
J. C. Hunt on bass, Earl Hughes on guitar and Joey Carmon on banjo performing live in Hawaii.
Clyde Johnson at 82 years old is still learning banjo licks!
Joey Carmon singing, 'When the Loving Starts" at the Grand Old Opry in Nashville, Tenn.
The Bingham boys -Ocean and Tristan
Joey playing banjo backing up Jim Moore in Hawaii.
Jim Moore and Hi Country played all the military clubs in Hawaii.
Jim heard Joey with the Army country band at Schofield Barracks and hired him to play banjo and sing in his group.
John Brock and me fishing on our off days on the road with Crossbow.
The "Clark family" (minus Roy) did some shows in Hawaii. Earl Hughes played guitar and I played banjo.
Joey came from a very musical family
All my family could sing or play piano and sometimes we'd just pick up a hymn book and sight read the parts while my sister, (B.G.) would sight read the piano music!
Earl Hughes and Friends
I'm playing one part, Earl Hughes is behind me playing another part on the same guitar while J.C. Hunt plays bass behind his back at a show at Ft. Derussy in Waikiki, Hawaii.
Pete Cartwright
There ain't a lick of wood on his guitar…and it still sounds great!
Jordan and Jacey Wynn and Paige and Courtney Wigmore
Taking a break from playing "Wagon Wheel".(Ya think they're twins?)
Ted and Jennifer Files at the Scott Dean Agency
Ted Files first booked my band in 1986 and was responsible for me moving to Reno from El Paso. He and Jennifer have always been good friends and now we can relax and enjoy the rest of the ride!
"Jim Shoe and the Sneakers"
Jhan Hansen, Joey Carmon, Garry Pranin and Curt Lee posing in front of a Corvette before a Harrah's Casino outdoor concert - August 2018 was the 22nd year anniversary of "Jim Shoe and the Sneakers" performing at Hot August Nights!
Chris and Helen Brown are cookin'!